We Settle Insurance Claims In Edmonton, Alberta
At We Settle Your Claim Law in Alberta, helping clients settle insurance claims is what we do. Whether you are filing a workers compensation claim, a homeowner's insurance claim, an auto insurance claim involving bodily injury or property damage, or any other kind of accident claim, we can help you get the compensation you deserve. Sorting out insured losses and taking all the steps necessary to file an insurance claim on your own can be tricky, so we highly recommend seeking out a professional who can help you navigate the process. Contact us today!
Why Choose WSYC Law?
A team of experienced insurance lawyers
We settle individual and commercial insurance claims
Legal assistance filing insurance claims
Dispute resolution services available
Low fees — no fees until your claim is settled
No claim is too big or small for us to handle
Established track record with client testimonials
How We Handle Insurance Claims
OUR PROCESS
When you choose WSYC Law to help settle your case, our insurance lawyers can help determine your coverage, how much your insured loss is worth, and draft and process the insurance claim for you. The way we handle insurance claims is unique in that we offer a free initial consultation where we will get to know your case and form a plan of action moving forward.
Then, we carefully assign your case to an insurance adjuster who is familiar with the specific type of claim before moving forward with any legal actions. This helps us determine whether the case is valid enough to move forward and be assigned to a lawyer who will have you sign a retainer agreement. Once this has been done, your insurance lawyer will be able to act on your behalf and negotiate with the insurance company as well as the insurance company's lawyer.
Our insurance attorneys do everything in their power to settle your case, including hiring industry experts such as accountants, contractors, engineers, and medical professionals to offer their insight. This allows us to tap into the years of experience and knowledge of professionals who are familiar with things that can go wrong on job sites or complications associated with certain injuries and/or property damage.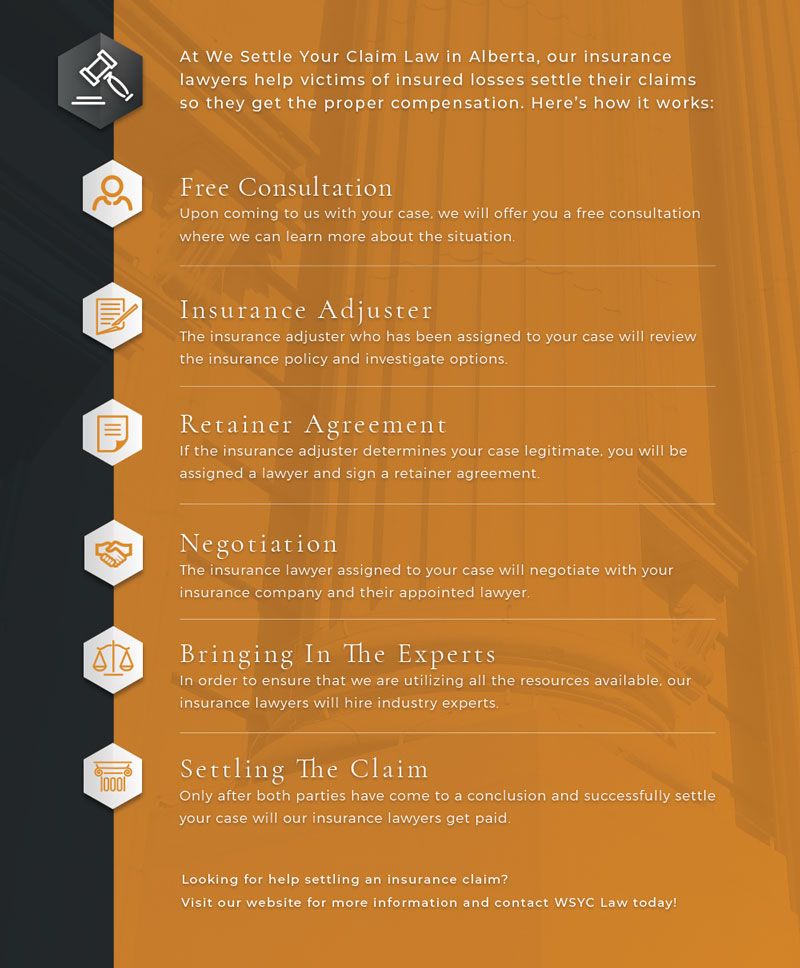 Let WSYC Law Help
WSYC Law is one of the only insurance law firms in Alberta that goes the extra mile to ensure that we are using all the resources available to us when fighting to settle your case. There is nothing in our contract that requires us to hire outside experts to weigh in on the situation, but we do so because we know that this can greatly help our efforts.
After all, who would attempt to deceive an insurance lawyer who is settling an auto insurance claim with a doctor or automobile engineer on their side? Plus, we don't get paid until your claim has been settled and you have access to all the same resources the insurance company has, so we help you receive the maximum settlement.
If you are a victim of an insured loss and need help drafting or filing an insurance claim, contact WSYC Law in Alberta today! We would be happy to meet with you and offer a free consultation regarding your case.
WHAT MAKES OUR INSURANCE LAW FIRM DIFFERENT
Our insurance claim lawyers know the insurance industry inside-out, and we are aware of how many home, property, and commercial insurance companies seek to preserve their interests while processing insurance claims. Unfortunately, many insurance agents take advantage of this process, leaving you with far less coverage than you are owed. We use this knowledge to your advantage and present your claim ourselves to get you maximum benefits in no time.
We Settle Your Claim Law is an Alberta law firm that believes in trust, reliability, and resolution. With us, you and your property is in safe hands. Get in touch with one of our insurance claim lawyers today to discuss and settle your case.
Schedule A Free Consultation